Spielplan
im Votivkino Wien (download)
Montag, 25.11.2019
18.00 Screwdriver (Mafak)
20.00 Naila and the Uprising
Dienstag, 26.11.2019
18.00 The Apollo of Gaza
20.00 Historische Vorstellung
Mittwoch, 27.11.2018
18.00 Acre Dreams
20.00 Samouni Road
Donnerstag, 28.11.2018
18.00 What Walaa Wants
20.00 Writing On Snow
Filme
Screwdriver (Mafak)
Regie: Bassam Jarbawi, Palästina/USA/Qatar, 2018, 108 Min., OmeU
Ziad ist der Star des Basketballteams des Al-Amari Flüchtlingslagers in Ramallah. Als sein Freund Ramzi von israelischen Soldaten tödlich verletzt wird, beschließen Ziad und seine Teamkollegen Rache zu nehmen. Die Folgen ihrer Aktion verändern Ziads Leben für immer. Nach 15 Jahren in israelischer Gefangenschaft verehren ihn die Menschen als Helden. Ziad aber ist traumatisiert und überfordert mit den Anforderungen eines neuen Palästinas.
Montag, 25.11. um 18:00 Uhr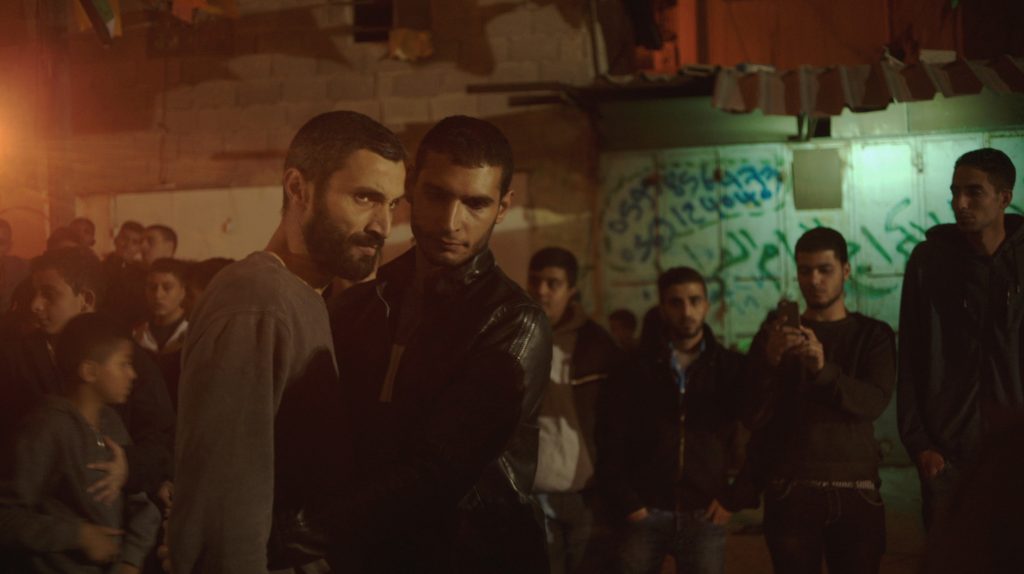 Screwdriver (Mafak)
Director: Bassam Jarbawi, Palestine/USA/Qatar, 2018, 108 min., Original languages with English subtitles
Young Ziad is the star of the Al-Amari Refugee Camp basketball team in the Ramallah outskirts of Palestine. When his best friend is shot and killed in crossfire, his teammates seek revenge, with results that will impact Ziad's life forever. Shot entirely on location in the West Bank with a largely Palestinian crew, award-winning director Bassam Jarbawi's debut feature follows Ziad as he returns home after 15 years in an Israeli prison. Hailed as a hero, with high expectations to settle back quickly into work and love, he is lost in a world he barely recognizes. Effectively capturing this unsettling inability to distinguish reality from hallucination and the haunting of memory, Screwdriver immerses us in a distinctly Palestinian story while addressing the universal trauma of reintegration after incarceration.
Monday, 25.11. at 6pm
Naila and the Uprising
Regie: Julia Bacha, USA/Palästina, 2017., 75 Min., OmeU
Der Ausbruch der ersten Intifada 1987 zwingt eine junge Frau in Gaza sich zu entscheiden, zwischen Liebe, Familie und Freiheit. Naila schließt sich einem Netzwerk palästinensischer Frauen an. Die Frauen kämpfen für internationale Anerkennung der Rechte der Palästinenser*innen. All ihr Einsatz hat Naila in israelische Haft gebracht, von ihrer Familie und ihren Freund*innen getrennt und sie großes Leid gekostet.
Montag, 25.11. um 20:00 Uhr
In Anwesenheit von Naila Ayesh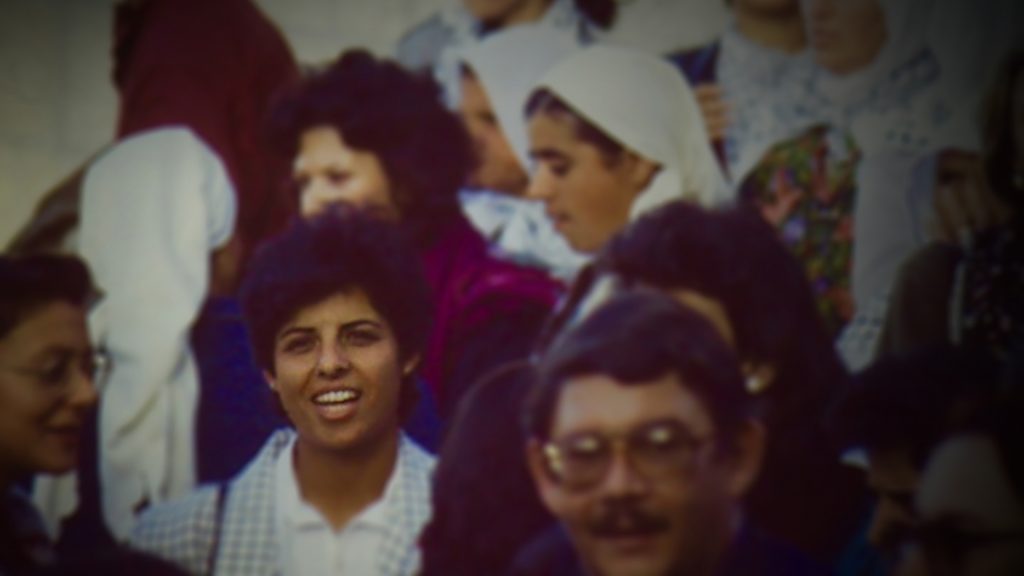 Naila and the Uprising
Director: Julia Bacha, USA, 2017, 75 min., Original languages with English subtitles
When a nation-wide uprising breaks out in 1987, a woman in Gaza must make a choice between love, family and freedom. Undaunted, she embraces all three, joining a clandestine network of women in a movement that forces the world to recognize the Palestinian right to self-determination for the first time. The film revolves around the tragic and remarkable story of Naila Ayesh, an active student organizer in Gaza in the 1980s. Naila has spent years building the infrastructure for economic independence for women and self-sufficiency for Palestinians under Israeli occupation. This film tells the story that history overlooked – of an unbending nonviolent women's movement at the head of Palestine's struggle for freedom.
Monday, 25.11. at 8pm
In presence of Naila Ayesh
The Apollo of Gaza
Regie: Nicholas Wadimoff, Schweiz/Kanada, 2018, 78 Min., OmeU
2013 wird vor der Küste des Gazastreifens eine über 2 000 Jahre alte Apollon-Statue entdeckt – um wenig später spurlos wieder zu verschwinden. Gaza, eine Region, die bis heute den Preis für unzählige Kriege und eine schonungslose Blockade bezahlt, und in der das Leben trotz allem seinen Lauf nimmt. Die Statue und ihre verblüffende Geschichte geben unverhofft einem ganzen Volk Würde und Hoffnung zurück.
Dienstag, 26.11. um 18:00 Uhr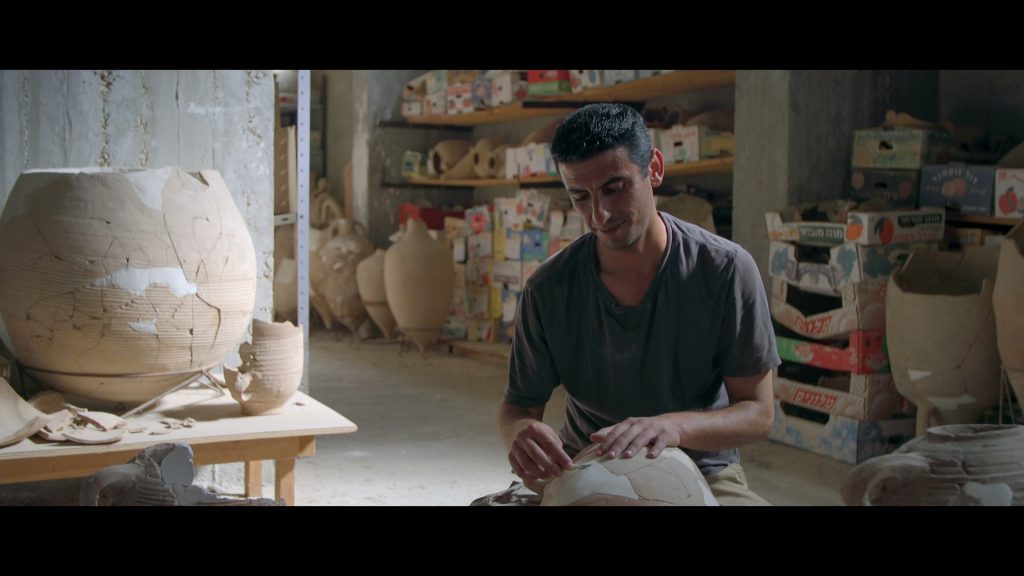 The Apollo of Gaza
Director: Nicholas Wadimoff, Switzerland/Canada, 2018, 78 min., Original languages with English subtitles
In 2013, a 2000-year old statue of Apollo was found near Gaza, only to disappear all of a sudden. Apollo, god of art, beauty and divinations, incites all sorts of rumors, even the craziest ones. The Apollo of Gaza is at once an inquiry and a meditation on history, plunging us into the barely known reality of a territory that is still paying the price of wars and a merciless blockade, but where life also subsists, undefeated. By bringing a little light to the sky of Gaza, the statue and its stupefying story could return some dignity and hope to all people.
Tuesday, 26.11. at 6pm
Historische Vorstellung: Tag des Bodens (1978), Aida (1987), Shatila – Auf dem Weg nach Palästina (1988), 100 Min., DF
Die drei historischen Filme geben einen Einblick in die filmische Zusammenarbeit der 1964 gegründeten palästinensischen Befreiungsorganisation PLO mit Filmschaffenden der beiden deutschen Staaten. In den 1970er und 1980er Jahrenwar die nationale Befreiungsorganisation eine internationalistische Bewegung. Zahlreiche Menschen aus aller Welt haben sich in ihr engagiert, viele mit ihr kooperiert.
Dienstag, 26.11. um 20:00 Uhr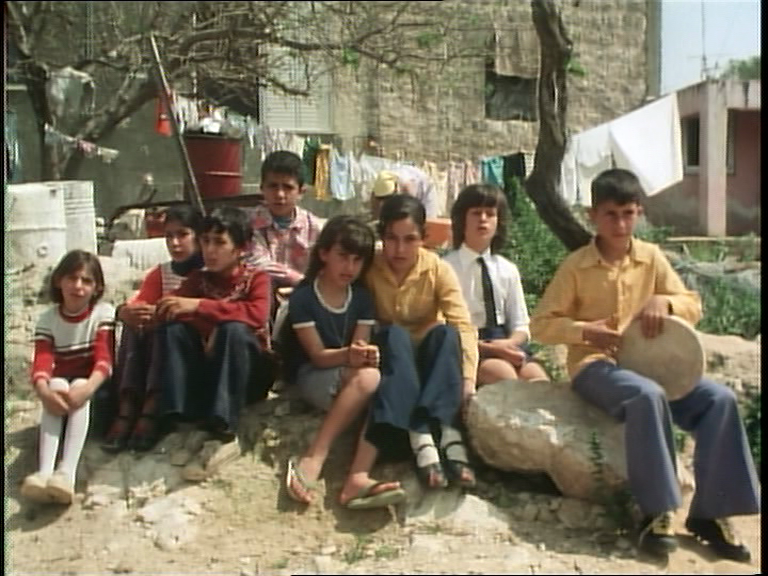 Historical PLO-Films: Tag des Bodens (1978), Aida (1987), Shatila – Auf dem Weg nach Palästina (1988), 100 Min., German version
The three historical films give insight in the cinematic co-operation between the Palestinian Liberation Organization founded in 1964 and the two German states at that time. The 1970's and 1980's were the blooming years of the PLO. The organization became an international movement and people from all over the world co-operated.
Tuesday, 26.11. 8pm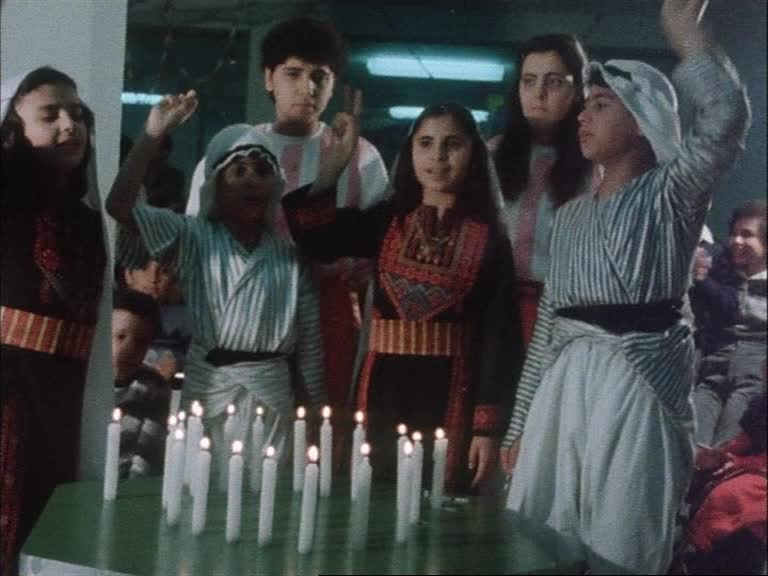 Acre Dreams
Regie: Daniel Wachsmann, Israel, 2018, 77 Min., OmeU
Azam ist Araber, Theaterregisseur und lebt in Galiläa. Die geplante Aufführung seines autobiographischen Stückes in Akko, der arabisch-jüdisch gemischten Stadt, verlangt seine Geduld. Das Stück spielt 1947, während der letzten Tage des britischen Mandates in Palästina und kurz vor der Staatsgründung Israels. Die Proben des Stücks enthüllen die Liebesgeschichte von Azam's Mutter Layla und dem jüdischen Doktor Alfasi.
Mittwoch, 27.11. um 18:00 Uhr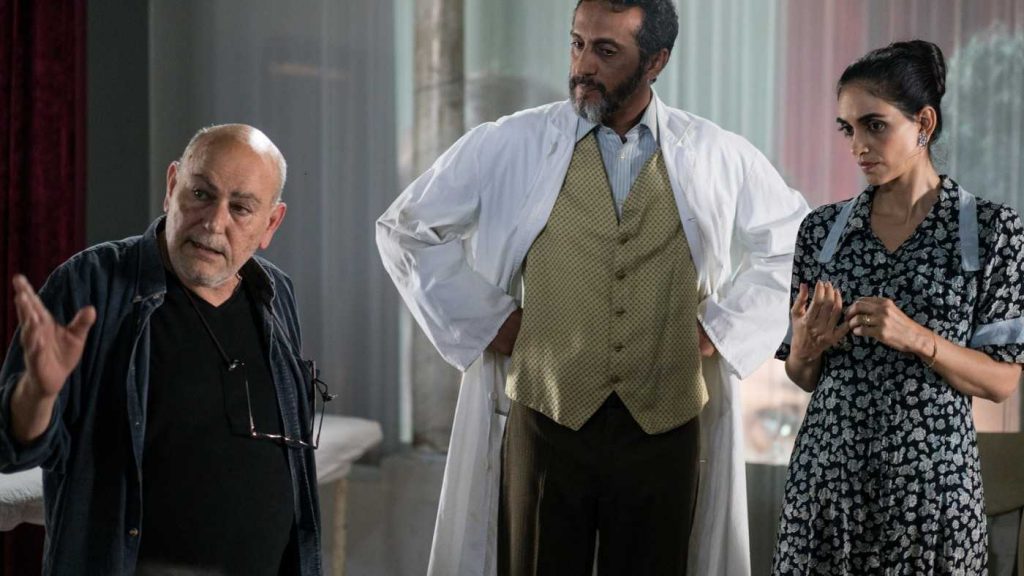 Acre Dreams
Director: Daniel Wachsmann, Israel, 2018, 77 min., Original languages with English subtitles
Azam, an Arab theatre director who lives in the Galilee, directs an autobiographical play in the mixed Jewish-Arab city of Acre. The play takes place in 1947, during the final days of the British Mandate in Palestine, before the establishment of the State of Israel. The rehearsals for the play gradually reveal the exceptional love story that took place between Azam's mother Layla and the Jewish Doctor Alfasi, the last Jewish citizen who remained in the city of Acre during the War of 1948. Over the course of the rehearsals, Azam struggles against extreme forces trying to prevent him from staging his mother's true life story. Azam's play was never staged for an audience. His attempts to tell his story come to a tragic end. The film "Acre Dreams", which documented his work on the controversial play, and followed him over the course of his last days, is the only remaining testimony of his life's story.
Wednesday, 27.11. at 6pm
Samouni Road
Regie: Stefano Savona, Frankreich/Italien, 2018, 130 Min., OmeU
Amal wird bei einem Angriff auf ihre Wohngegend in Gaza, der Samouni Straße, unter den Betontrümmern eines Hauses verschüttet und für tot gehalten. Während der Operation "Gegossenes Blei" 2008/2009, bei der die israelischen Luftwaffe 2008/2009 den Gazastreifen bombardiert hat, wurden 29 Zivilisten getötet. Dabei hat es eine Familie besonders schwer getroffen. SAMOUNI ROAD erzählt die Geschichte dieses Familientraumas.
Mittwoch, 27.11. um 20:00 Uhr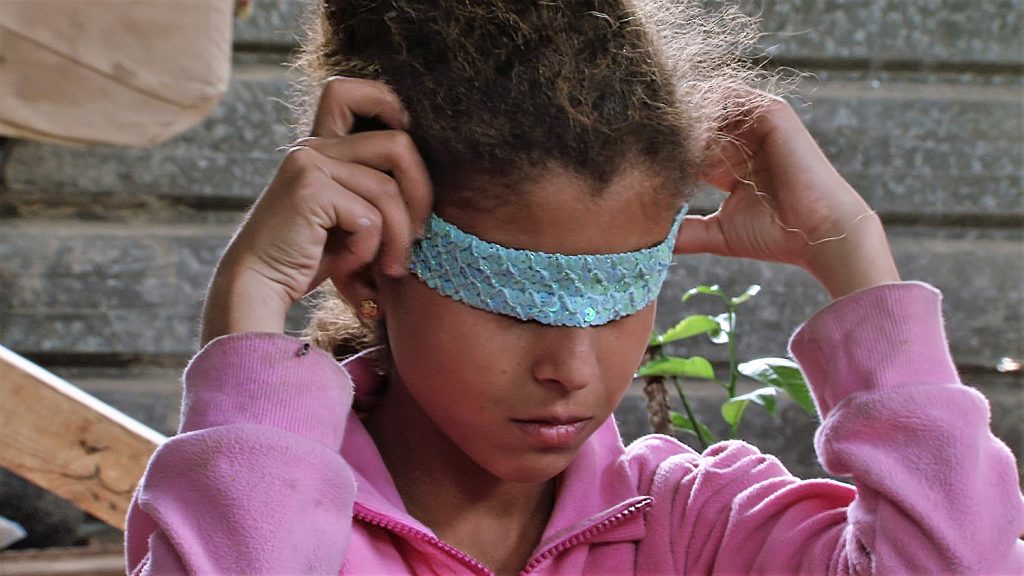 Samouni Road
Director: Stefano Savona, France/Italy, 2018, Original languages with English subtitles
Amal is considered dead by her relatives after an Israeli attack until she is found under the concrete rubble of a house and becomes a witness of her family's story. During its operation "Cast Lead" in 2008/2009 the Israeli Air Force bombed the Gaza Strip and killed 29 civilians. Among them many members of one family. Samouni Road is the story of a family trauma.
Wednesday, 27.11. at 8pm
What Walaa Wants
Regie: Christy Garland, Kanada/Dänemark, 2018, 89 Min., OmeU
Walaa wächst im Balata Flüchtlingslager im Westjordanland auf. Als ihre Mutter aus israelischer Haft entlassen wird, ist Walaa 15. Sie träumt davon, Polizistin zu sein, eine Uniform zu tragen, eine Heirat zu vermeiden und ihr eigenes Geld zu verdienen. Doch ihr rebellisches Verhalten und die komplizierten Verhältnisse, in denen sie lebt, stehen immer wieder zwischen ihr und ihrem Ziel.
Donnerstag, 28.11. um 18:00 Uhr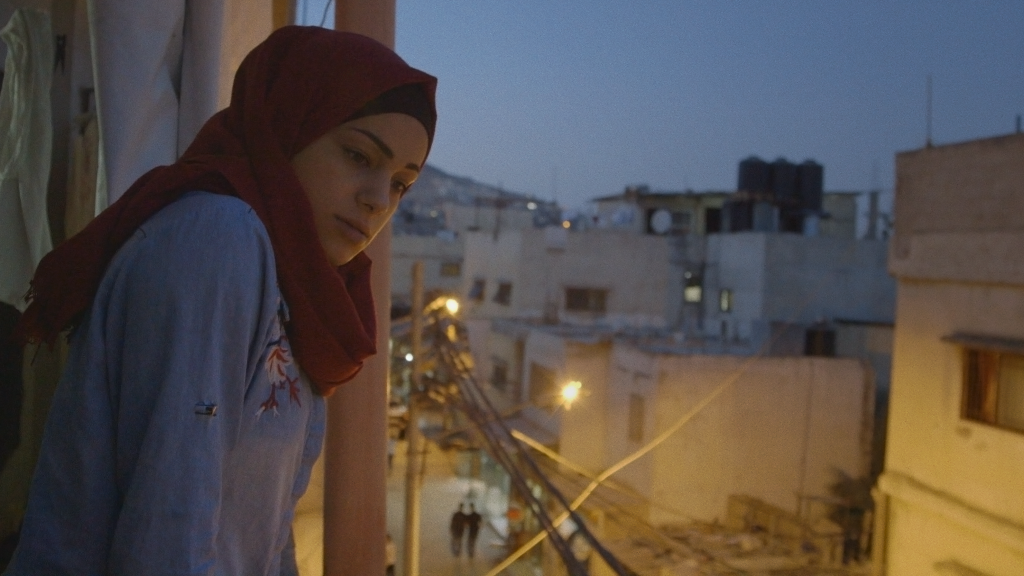 What Walaa Wants
Director: Christy Garland, Canada/Denmark, 2018, 89 min., Original languages with English subtitles
Raised in a refugee camp in the West Bank while her mother was in prison, Walaa dreams of being a policewoman, wearing a uniform, avoiding marriage, and earning a salary. Despite discouragement from her family, even from her beloved brother Mohammed, Walaa applies-and gets in. But her own rebellious behavior and a complicated relationship with her mother are a challenge, as are the circumstances under which she lives. Following Walaa from 15 to 21, with an intimate POV and the exuberant energy of its subject, this first-ever look inside the Palestinian police academy brings us the story about a young woman navigating formidable obstacles, learning which rules to break and follow, and disproving the negative predictions from her surroundings and the world at large.
Thursday, 28.11. at 6pm
Writing On Snow
Regie: Rashid Masharawi, Palästina/Tunesien/Ägypten, 2017, 72 Min., OmeU
Eine Nacht in Gaza. Fünf Palästinenser*innen sitzen während eines Angriffs auf Gaza in einem kleinen Apartment fest. Die fünf kennen sich nicht und merken schnell, dass sich ihre Meinungen in politischen und religiösen Fragen sehr voneinander unterscheiden. Meinungsverschiedenheiten, die es nicht immer leicht machen, solidarisch zu sein und sich gegen die israelische Besatzung zu wehren.
Donnerstag, 28.11. um 20:00 Uhr
In Anwesenheit von Rashid Masharawi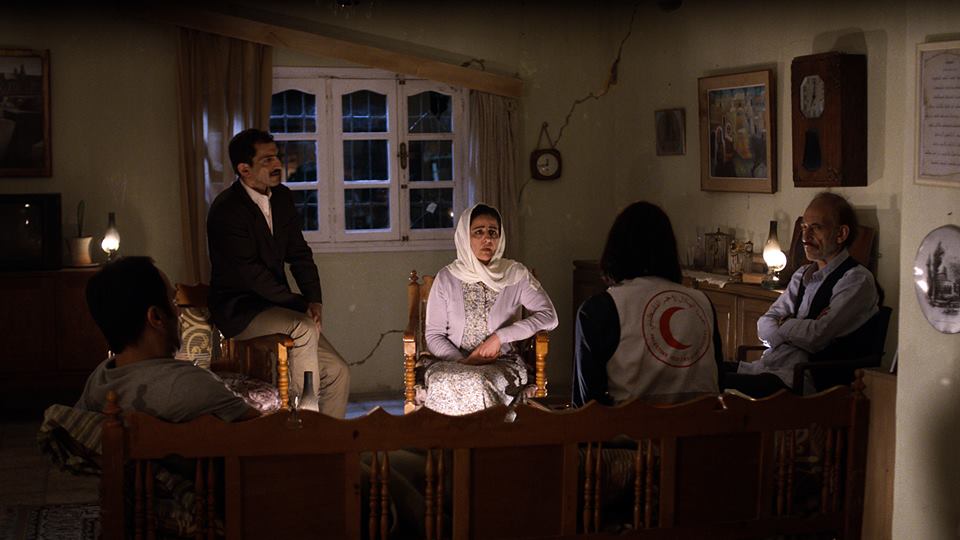 Writing On Snow
Director: Rashid Masharawi, Palestine/Tunisia/Egypt, 2017, 72 min., Original languages with English subtitles
The film takes place in one night. Five Palestinians are trapped inside a small apartment during the war on Gaza Strip. Political and social divisions among themselves, and religious intolerance, and the lack of acceptance of the other despite the difference, are factors that go beyond their solidarity and weaken their resistance against the Israeli occupation
Thursday, 28.11. at 8pm
In presence of Rashid Masharawi

HAÏFA
Regie: Rashid Masharawi, Palästina/Niederlande, 1995, 75 min, OmeU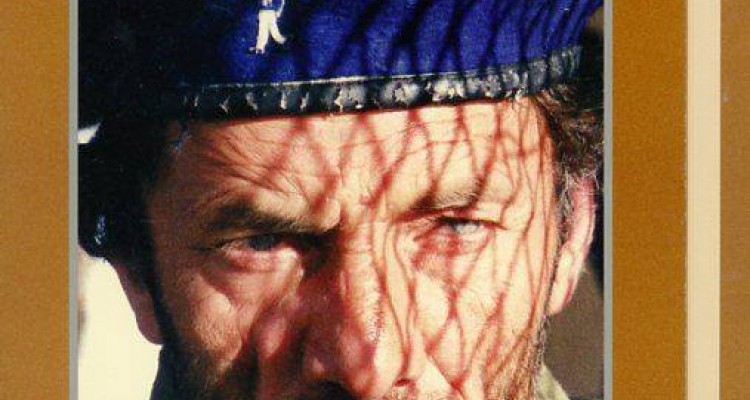 "Wer hat gesagt, die Zeit heile alle Wunden? Besser sollte man sagen, die Zeit heilt alles, nur nicht die Wunden." (Chris. Marker, "Sans Soleil")
Der zweite Spielfilm von Rashid Masharawi, dem Regisseur von "Curfew – Die Ausgangssperre", erzählt die Geschichte von Haïfa, dem "weisen Narren", der in einem Flüchtlingslager in Gaza lebt und schon durch seinen Namen die Erinnerung an seine Heimatstadt Haïfa wachhält. HAÏFA ist ein Märchen und eine Alltagsgeschichte zugleich. Haïfa kennt sie alle, die kleinen und großen Sorgen der Palästinenser*innen. Und er weiß auch, wo noch Hoffnung ist: Bei den Mädchen und Jungen, die selbstbewusst in die Zukunft schauen und ihr Leben selbst gestalten wollen.
Sonntag, 1.12. Matinee im Anschluss an die Filmwoche um 12:00 Uhr

Mehr dazu auf: https://www.votivkino.at/film/haifa